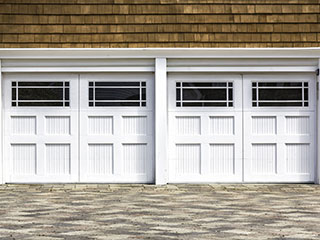 At Garage Door Repair McKinney, we offer a wide range of services that cover everything from spring replacement to opener installation. We understand how inconvenient it can be for people to have a problem with their garage door and we always make an effort to respond as quickly as possible to every emergency service call we get.
Our Skilled Technicians
Our team comprises of trained professionals with years of experience under their belt. These repair specialists are equipped with all the tools necessary to expertly solve any problem related to automatic garage door systems. We make sure to always come with all the replacement parts we'll potentially need in order to be able to complete every repair job on the spot.
Your Satisfaction Comes First
Our company values customer satisfaction above everything else. All our repair services are designed to get your door working again without you having to wait too long for the results. We strive to provide long-term solutions instead of temporary fixes so that you won't have to call for help again just a few days later.
Professional Spring Replacement
There are two types of springs that help garage doors move, extension and torsion. Each type is more suitable for different scenarios and different specifications, Regardless of the type of spring your door uses, you can count on our team to safely replace or adjust these units when they break or lose their tension. Dealing with springs can be very dangerous, so you should always let our experts handle things when they involve these units.
Top Notch Panel Replacement
There are times when a particular part of the door may sustain more damage than the rest of it. In this scenario, there isn't necessarily a need to replace the entire door. If it is a sectional door, then only the affected panel will need to be replaced, providing that the damage is significant enough that repairs aren't enough, of course. Our team can help you obtain a new panel from the door's original manufacturer, and to then carry out the replacement work quickly and safely.
Looking For an Upgrade?
If you're looking to improve some aspect of your home, like security or curb appeal, then a new garage door can be exactly what you're looking for. Modern models have a lot to offer you in terms of both functionality, durability and insulation, to mention a few aspects. If your old door is barely holding up anymore, or if you're looking to give your home a visual boost, our team will be happy to help you find the perfect new door for you.
We're Here to Help
Our team is one of Texas' leading service providers, and we're not intending on stopping anytime soon. If you need help with anything from the opener to the springs, our experts are at your service.
Give Us a Call Today!

Weekend Appointments

High Quality Products

Same Day Emergency Services

Satisfaction Guaranteed