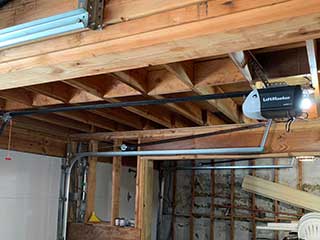 Today's garage door openers are more complex than ever before, and the options available vary widely. Read on to learn which factors we recommend considering before making this important investment.
Which Type Of Drive?
Belt-drive openers are the quietest of the drives available, making them the perfect fit for a garage that is either under a bedroom or adjacent to the living area. The belt is made of rubber reinforced with metal. Chain-drive openers on the other hand are economical and reliable, but noisy, while screw-drive models utilize a steel screw directly engaged with the motor. In general, chain drives require the least maintenance and last a long time.
The Power Of The Motor
The horsepower (HP) of the motor ranges from ½ to 1 ½ HP. Less power is required to lift a sectional door than a one-piece, while more power may be needed for heavier doors with added insulation, or wood and glass panels.
The Entry Options Available
Traditionally, openers came with a wall switch and a remote control. Nowadays you have the added convenience of an external keypad that can be used by entering a code. Remotes also come available as small keychain attachments or can be permanently mounted to your dashboard. With added Wi-Fi technology, you now also have the option of opening your door automatically as you drive up to it, or via your smart device. If you forget to close your door after driving out of the garage, auto-close features can also be installed, automatically lowering your door after a pre-programmed period of time.
Technology And Connectivity
Most manufacturers include applications that enable you to connect to your home's Internet network, and monitor the state of the opener as well as operate it with a mobile phone, tablet or directly from your car. Most new models also offer additional security features such as rolling code powered access, a system that generates a new code each time the remote is used, preventing code theft and break-ins. Other new safety aspects which have become fairly standard today include the automatic reverse, which stops the door from closing if an obstruction is detected, and of course, the safety sensors that have been in law since 1993. It's surprising how many houses we encounter that still don't have these in place.
To discuss your opener options in more detail, contact our professionals at Garage Door Repair McKinney for further advice and assistance.