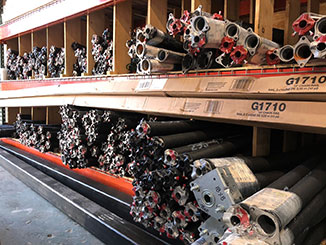 Every part of your garage door system has a distinct role. The opener automates and controls the operation of the door. The tracks guide the rollers which facilitate the panel's movement, and the lift cables do exactly what their name suggests and lift and lower the door. The springs are in charge of providing the counterbalance tension needed to take weight and stress away from the other hardware parts and thus assist in the opening and closing action of the door. There are two different types that are used today, and those are torsion and extension, which are distinguished by the way they work. However, the former has more variety to offer, as it comes in specially designed types that can be more fitting for certain situations.
A Little More Variety
Galvanized garage door torsion springs can usually be recognized by looking at their coils, as they tend to be shinier and paler than their oil tempered counterparts. The main benefit galvanized units offer is rust resistant properties. They don't leave stains the way oil tempered units do, and because they've undergone a process which left them zinc-coated, they'll be capable of resisting rust as long as their galvanic coating remains intact.
The Main Disadvantage
Galvanized torsion springs do not have the strength of oil tempered units, which are treated to a heating and cooling process in order to be able to remain strong and durable for years. Because of the zinc-coating process, galvanized units go through, they experience a loss of tensile and need regular adjustment to be carried out approximately every six months. The more tension is added to the springs the sooner they will wear out. They're a great choice for lighter doors in areas where air moisture level tends to be high and rust very prevalent.
When a Spring Breaks
While galvanized springs look nice and can resist rust, they will break sooner than some other types because of their compromised durability, which will put more strain on the electric garage door opener when it happens. If the spring does not have sufficient tensile strength to move the door properly, the opener and the cables will have to work harder in order to compensate, and may even be unable to do so at all. When spring maintenance or repair are required, you should waste no time getting the required work done, as you may be damaging other parts of your system when you try to use it while one of these units is broken.